The 2020 Audi e-tron Sportback is one luxury electric SUV that people can't wait to get behind the wheel of. Let's gather some more details on the first-ever Audi e-tron Sportback. We all need to know the various prices, release dates, trim levels, interior specs, standard features, and powertrains. This way you can have a clear view on the differences between the 2020 e-tron SUV and e-tron Sportback.

View New Audi Inventory


2020 Audi e-tron Sportback Release Date
Pre-orders for the 2020 Audi e-tron Sportback began back in November 2019. The first e-tron Sportback deliveries should hit North America by the end of summer 2020.


2020 Audi e-tron Sportback Price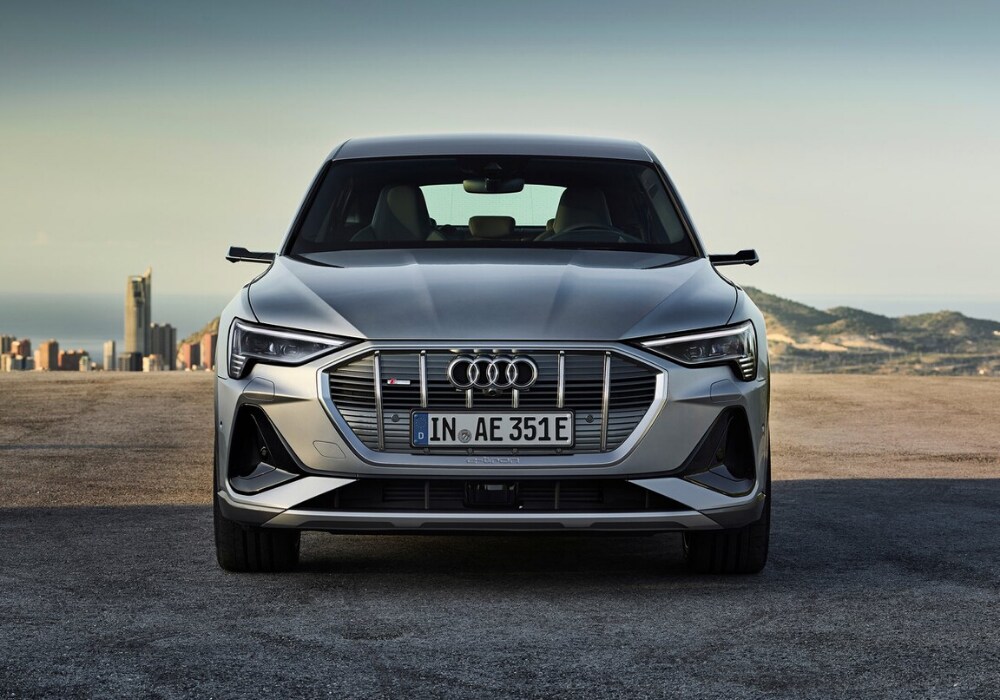 The starting price of the 2020 Audi e-tron Sportback is set at $77,400 for the Premium Plus trim level. If you want a top of the line e-tron Sportback Edition One Package, you are looking at a slightly higher starting MSRP of $88,495.


Get More Info on the First-Ever Audi e-tron Sportback
2020 Audi e-tron Sportback Trims & Configurations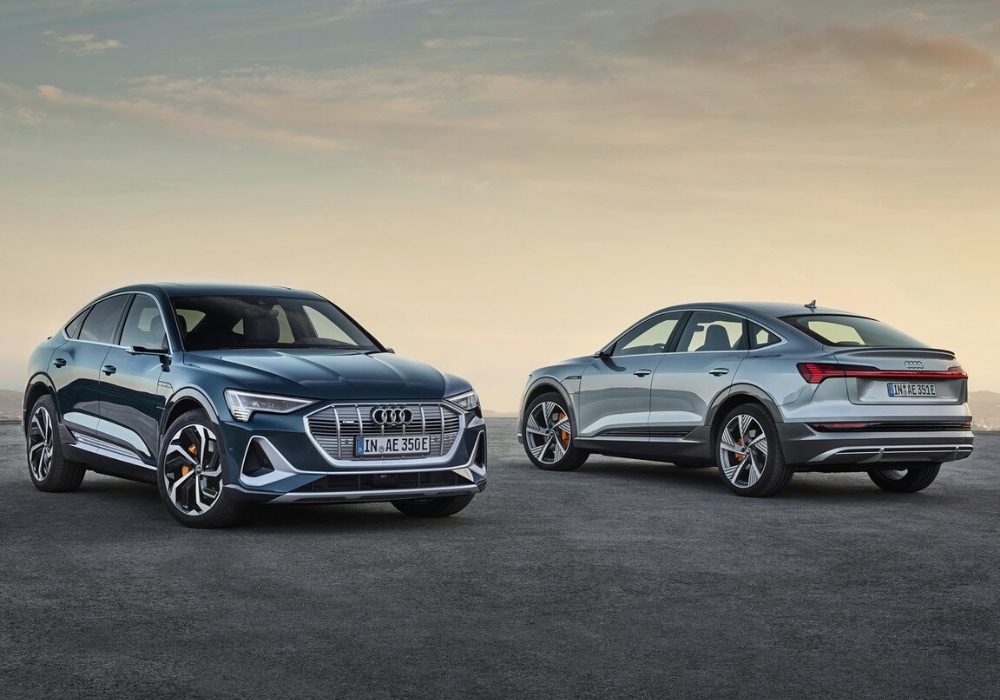 Currently, it appears there are 3 trim levels for the 2020 Audi e-tron Sportback: Premium Plus, Prestige, and Edition One Package. The new Edition One trim package to the Audi family has not previously been seen on other new Audi models, but the Premium Plus and Prestige are staple Audi trim levels.


Premium Plus Package: $77,400

Prestige Package: $83,300

Edition One Package: $88,495


The base Premium Plus Package includes adaptive cruise assist, top-view camera system with Virtual 360 view, and heated/ventilated power front seats. The Prestige Package adds in a heads-up display with navigation information, massaging front seats, and an air quality system. The Edition One Package offers more standard features than the Prestige Package, including Plasma Blue Metallic paint, S-line exterior appearance, 21" S-spoke design bi-color wheels, and Monaco Gray Valcona leather seating surfaces with two-tone dashboard. There are also plenty of packages to add, such as the Cold Weather package and the Tow package.


2020 Audi e-tron Sportback Engine & Powertrain
For 2020, Audi plans to take their new electric cars and showcase what's unique about the brand. With the e-tron Sportback, you get a 95.3-kWh lithium-ion battery pack with two electric motors, one at each axle. This setup provides all-wheel drive capability, even though the rear motor is performing most of the work. Together, these dual electric motors output 355-horsepower with 414 pound-feet of torque. If the Sport mode is engaged, users gain access to 402 horsepower and 490 pound-feet of torque instead. When equipped with the Tow package, the 2020 Audi e-tron Sportback can tow a maximum load upwards of 4,000 pounds.


2020 Audi e-tron Sportback EV Range & MPGe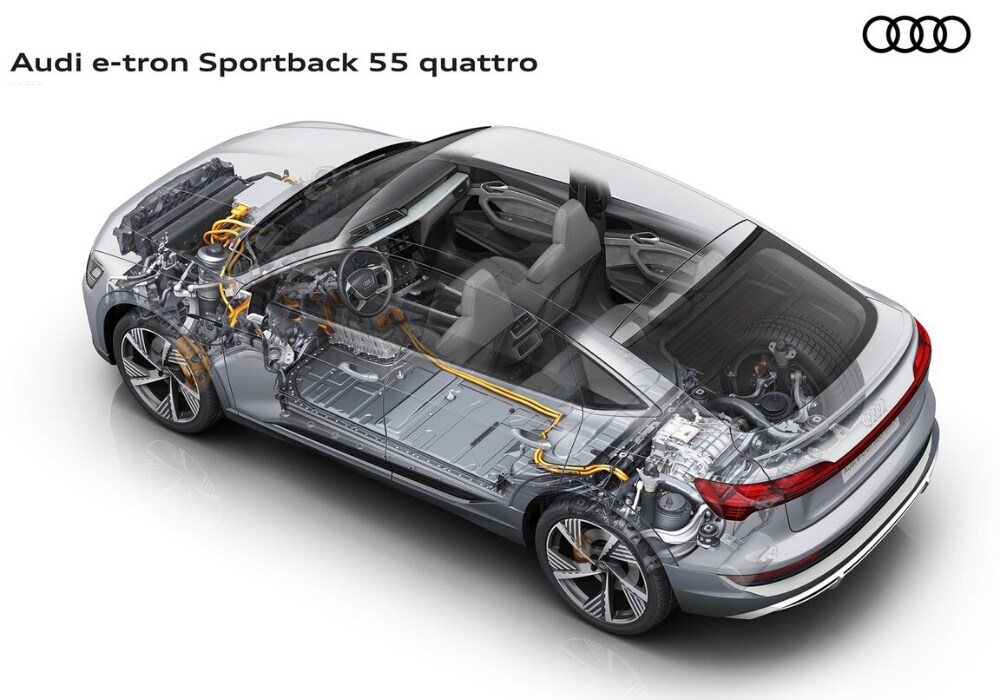 Originally, the EPA estimated that the 2020 e-tron Sportback will have around a 204-mile electric driving range, but these numbers were based on the e-tron SUV. It is now reported that the e-tron Sportback will receive 218-miles of driving range. Audi is still dedicated to continuing improvements on the overall range of all their electric vehicles, so we may see this number go up even higher. However, with a 204mi or 218mi range, the e-tron Sportback is expected to achieve around 74 MPGe city, as well 73 MPGe highway.


2020 Audi e-tron Sportback Interior Features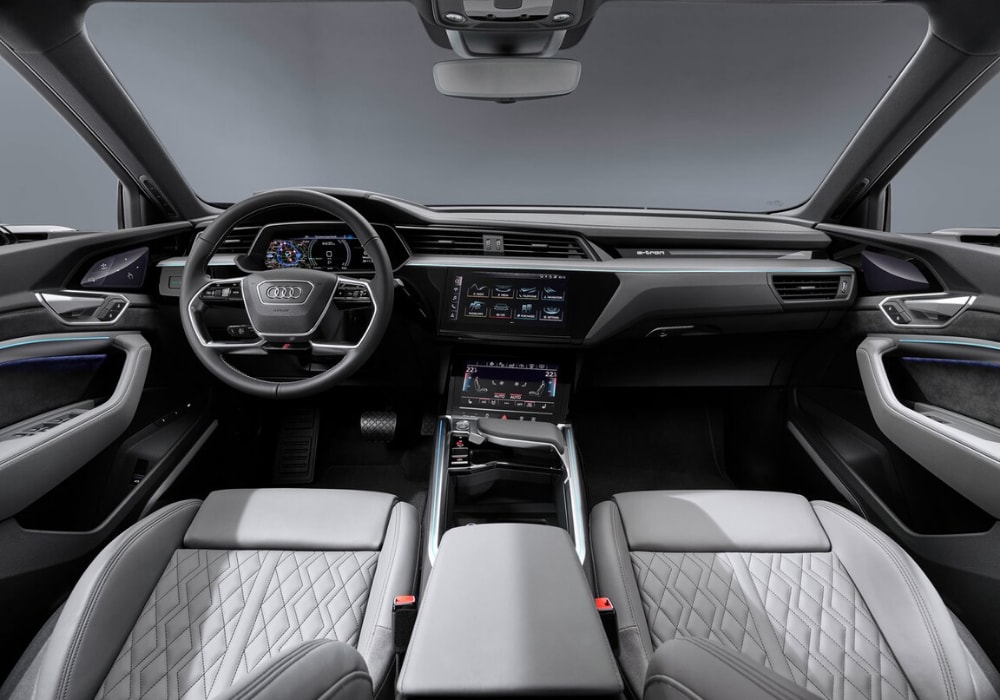 The 5-passenger 2020 Audi e-tron Sportback contains multi high-definition screens plus the digital gauge cluster. The infotainment system utilizes dual touchscreens, with a 10.1-inch display located on the top and an 8.8-inch display down below it. There is a standard premium Bang & Olufsen sound system, a navigation system, along with wireless charging, and a Wi-Fi hotspot. The new e-tron Sportback doesn't lack any cargo room either. Behind the back row, there is 29 cubic feet of room with 57 cubic feet once those seats are folded down. The e-tron Sportback combines the functionality of an SUV, the efficiency of an EV, and the sport-inspired curves of a performance-tuned vehicle.


2020 Audi e-tron Sportback Exterior Colors & Dimensions
The 2020 Audi e-tron Sportback is identical in length and width to the Audi e-tron SUV, but it contains a two-inch lower roofline with a smooth, descending rear cut providing a trunk look instead of the SUV 5th door vibe, along with a tipped spoiler, giving it an overall sportier feel. We aren't sure just how many exterior color options will be offered with the 2020 e-tron Sportback but if it receives similar color schemes to the e-tron SUV, we could see the following 10 colors: Brilliant Black, Antigua Blue, Catalunya Red, Florett Silver, Galaxy Blue, Glacier White, Manhattan Gray, Mythos Black, Siam Beige, and Typhoon Gray.


2020 Audi e-tron Sportback vs. e-tron SUV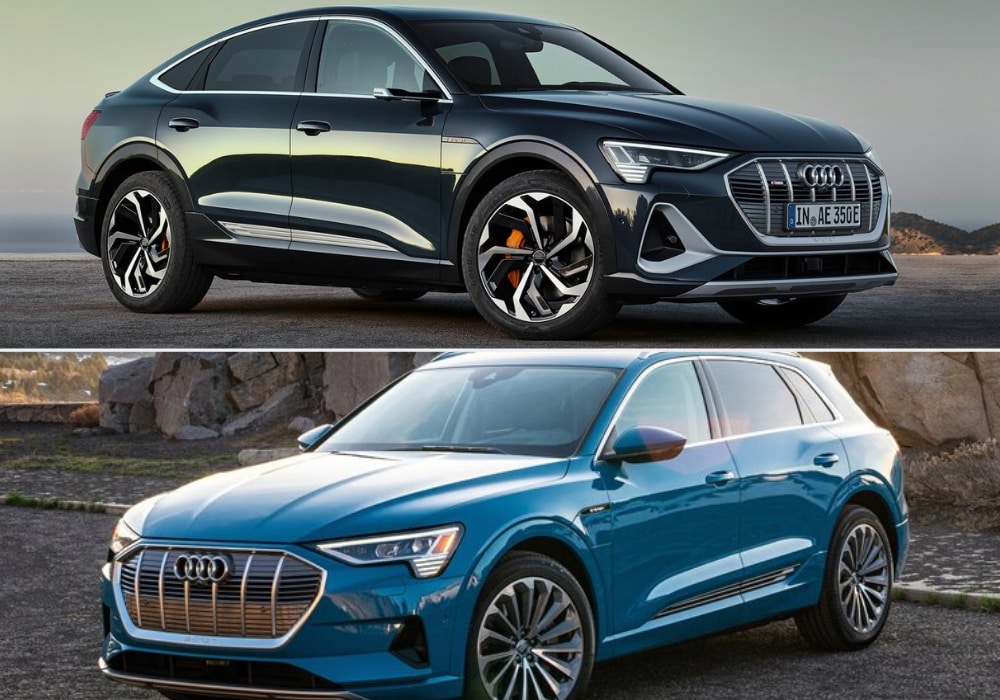 Aside from the sportier style, the 2020 Audi e-tron Sportback gains the ability to turn off the front motor when it doesn't need to be in use. This results in less drag and more acceleration, something seen commonly with AWD vs. RWD. There have also been some updates to the hydraulic brakes in the new model to help it stop easier. In regard to the sportier style, the sleeker roof-line lowers the aerodynamic drag while simultaneously creating that performance-inspired, Audi Sport look.


2020 Audi e-tron Sportback Reviews & Ratings
Looking at the initial 2020 Audi e-tron Sportback reviews, we can see how excited enthusiasts are to get behind the wheel of this new Audi electric SUV. Kelly Blue Book says that the "sleek shape delivers a low drag." Edmunds states that the new e-tron Sportback "rivals the Tesla Model 3, Jaguar I-Pace and Tesla Model X."


New Audi e-tron Sportback for Sale in Colorado Springs
The upcoming, first-ever 2020 Audi e-tron Sportback is going to hit the world by storm. With a release date quickly approaching, we are working on securing a large shipment of new e-tron Sportback models for our Audi dealership in Colorado Springs. Browse our new Audi inventory below and feel free to contact us with any questions you have about the new e-tron Sportback or our new e-tron inventory.

View New Audi Inventory